Convert Binance Coin (BNB) to Philippine Peso (PHP) easily, using the latest market rates.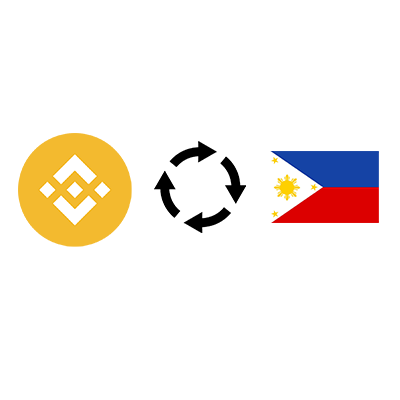 1 BNB equals to 12,958.28 PHP. Feel free to use the BNB to Philippine Peso calculator below to get the newest price from today.
Binance Coin (BNB) to Philippine Peso (PHP) Live Chart
The chart is showing the current BNB/PHP conversion and exchange rate and the history over time. You can use the filters on the right side to view a different data you want. The data is live from CoinMarketCap.
Fast BNB to PHP Conversions
On the table below you will find quick conversions for Binance Coin to Philippine Peso. If you wish to convert a custom amount, you can use the calculator above to select the amount you are looking for conversion.
BNB
PHP
0.1

1,295.83

PHP
0.2

2,591.66

PHP
0.5

6,479.14

PHP
1

12,958.28

PHP
10

129,582.84

PHP
100

1,295,828.35

PHP
1000

12,958,283.55

PHP
What Is Binance Coin (BNB)?
Binance Coin, often abbreviated as BNB, is a utility token used within the Binance ecosystem for various purposes. It serves as the native cryptocurrency of the Binance platform, one of the largest cryptocurrency exchanges globally. BNB has gained significant traction due to its utility in trading, fee discounts, and participation in token sales on the Binance Launchpad.
How Does BNB Work?
Binance Coin operates on the Binance Smart Chain (BSC), a parallel blockchain to the Binance Chain. BNB is used primarily for reducing trading fees on the Binance exchange and participating in the Binance Launchpad token sales. It can also be used within the Binance ecosystem for various decentralized applications and services.
How to Acquire BNB
If you're looking to acquire BNB, you'll first need to have some cryptocurrency to trade for it. You can purchase other cryptocurrencies like Bitcoin or Ethereum from various exchanges, including Binance itself. Once you have these cryptocurrencies, you can trade them for BNB on the Binance platform.
Transferring BNB to Another Platform
To transfer BNB to another platform, like a personal wallet or another exchange, follow these steps:
Log in to the destination platform or wallet.
Find your BNB deposit address.
On Binance, go to the "Wallet" section and select "Funds," then "Deposits."
Search for "BNB" and select it from the list.
Copy the BNB deposit address.
Go to your source wallet or exchange and initiate a withdrawal.
Paste the BNB deposit address into the withdrawal form.
Enter the amount of BNB you want to send and confirm the transaction.
BNB Price History
The historical price of BNB can vary greatly due to the volatile nature of the cryptocurrency market. BNB's value is influenced by factors such as market sentiment, adoption of the Binance platform, and developments in the broader crypto space. You can track BNB's price on various cryptocurrency tracking websites.
Trading BNB for Fiat or Other Cryptocurrencies
To trade BNB for fiat currency or other cryptocurrencies, you can follow these general steps:
Create an account on a reputable cryptocurrency exchange that supports BNB trading pairs.
Complete any necessary verification processes required by the exchange.
Deposit your BNB into your exchange account.
Navigate to the trading section and select the desired trading pair (e.g., BNB/USD, BNB/BTC or BNB/PHP).
Place a sell order for your BNB at your chosen price.
Once the order is executed, you can withdraw the resulting fiat or cryptocurrency to your wallet or bank account.
Remember that trading cryptocurrencies involves risks, including potential price fluctuations and security considerations. Always do your research and consider your risk tolerance before trading.
Is BNB a cryptocurrency?
BNB is indeed a cryptocurrency, but its primary role is as a utility token within the Binance ecosystem. While it can be traded and its value can fluctuate like other cryptocurrencies, BNB is specifically designed to facilitate various activities within the Binance platform.
Where Can I Sell My BNB?
You can sell your BNB on cryptocurrency exchanges that support BNB trading. Popular exchanges like Binance itself, as well as other major exchanges, offer BNB trading pairs. Simply create an account on a reputable exchange, deposit your BNB, and place a sell order to convert your BNB into another cryptocurrency or fiat currency.
Converting BNB to Philippine Pesos
Converting Binance Coin to PHP involves a similar process as selling. Find an exchange that supports BNB/PHP trading pairs, complete any required verification, deposit your BNB, and place a sell order for your chosen fiat currency (e.g., USD, EUR). Once the order is executed, you can withdraw the resulting fiat to your bank account.
Keep in mind that exchange rates and fees can impact the amount you receive when converting BNB to Philippine Pesos. Always consider these factors before proceeding.
Please note that the cryptocurrency market is dynamic, and the specifics of trading and converting cryptocurrencies may change over time. Always stay informed and use trusted sources when making financial decisions involving cryptocurrencies.